The UBC Marketing Club, also known as UBCMA, is one of the business clubs and the only club that specializes in the field of Marketing at The University of British Columbia. Their main mission is to build meaningful relationships with students, faculty, and partners to provide valuable insight in marketing and to show student's the full potential of a career in the marketing industry.
Challenge
The Gateways Marketing Conference is UBCMA's biggest conference of the year, with over 300 attendees ranging from UBC's Sauder School of Business students to graduates from companies like Telus, PepsiCo, Arc'teryx, RYU, Herschel, and more.
The conference aims to help educate marketing students by providing them with real world insights and additional skills from speakers, followed by a networking session and dinner to network with delegates.
Solution
We created a marketing campaign to advertise the event under 2017's theme of Be Anything. 
For this campaign, we picked items that are frequently advertised such as a pop can, shoe, and pen and intentionally left the items blank. The conference is to inspire the students on what they can be, which is anything, and that their future in marketing would be to market these everyday items into recognizable products with loyal customers.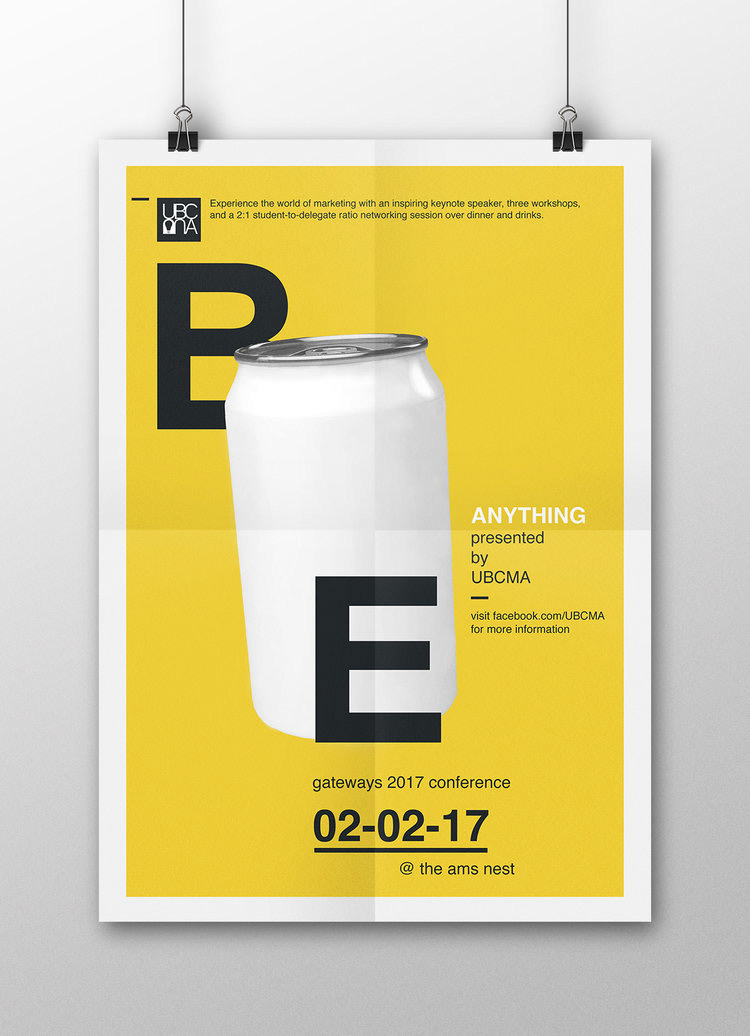 Sponsorship package to help communicate our values and ambitions to potential sponsors. 
Our supporters included Arc'teryx, RYU, Redbull, Pepsi Co., and more.